The Great Outdoors
April 01, 2020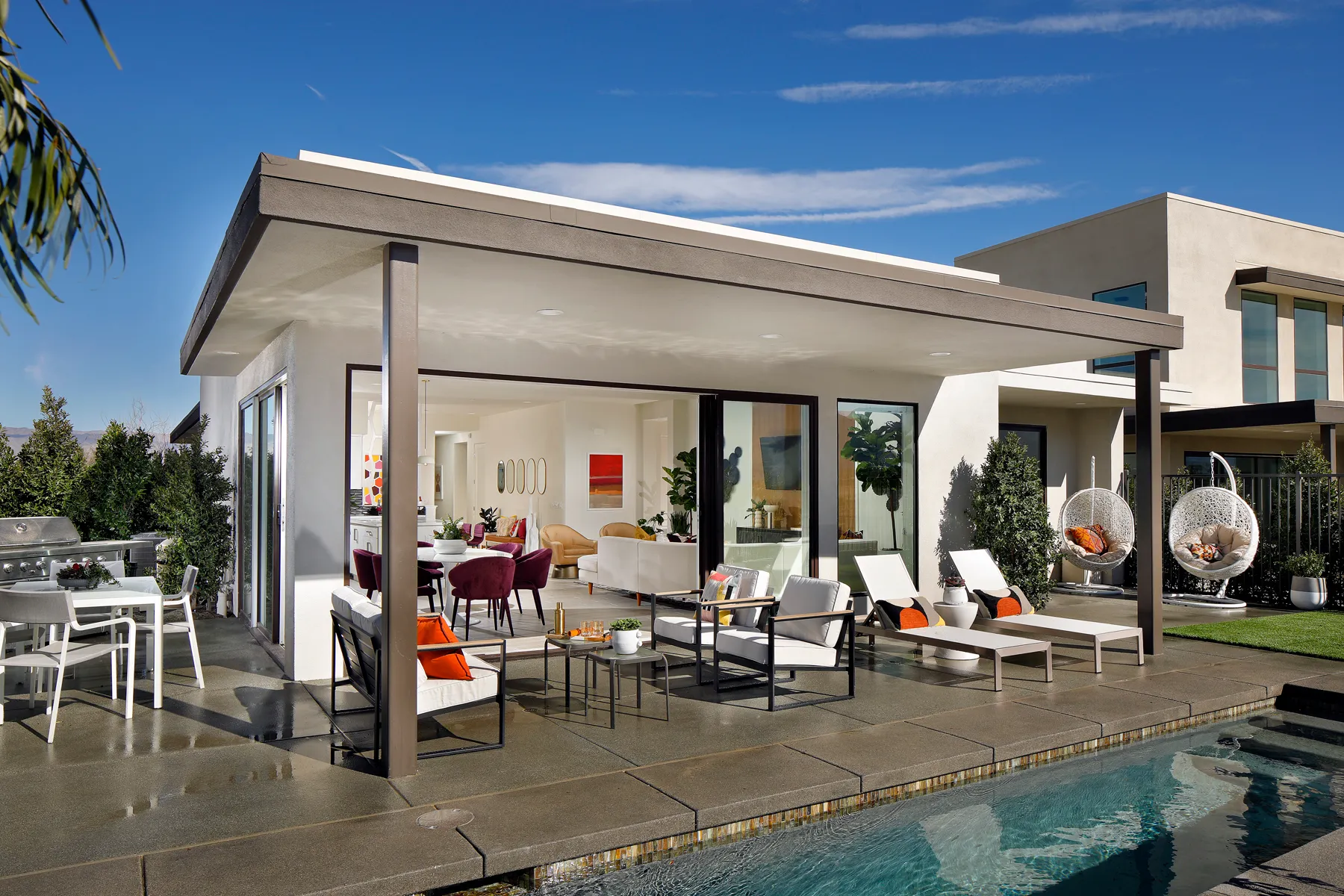 In California, one essential of desirable new home design is pleasing outdoor space, and at WPG, we create it by using the same principles that guide our concepts for new home interiors. For both, we want to provide useful space, and the feeling of larger space.
The keys to both lie in circulation, light gain and intuitive connectivity with related spaces. Special touches that offer a relaxing, open-air break from daily tasks are especially important.
Arrival—Covered entries introduce hospitable shade and shelter that hint of indoor/outdoor pleasures to come. In some designs, a gate instead of the traditional front door opens to a courtyard or loggia that progresses to the entry door. In either configuration, the first step inside should signal indoor/outdoor design, and enticing views from the entry are a plus.
From this spot, open sight lines carry the eye to the interior spaces we all love to love—our great rooms, kitchens and breakfast or dining alcoves. Even better is when views carry through the plan to your private rear yard, strengthening the indoor/outdoor seamlessness that makes your home's gathering spots live large.
Multi-Faceted—Like adjacent activity hubs inside, the rear yard is an adjustable space. When both the visual connection and physical circulation clearly relate to the interior, it easily handles diverse roles.
Here, you can turn the kids loose to let off steam, away from meal prep, hot ovens and the adult social hour. While they gallop and shout, your open view to their activities makes it easy to referee or come to the rescue. Meantime, your floors, walls, china and artwork stay blessedly untouched and intact.
When the yard incorporates a covered patio and/or barbecue station, your entire party can be staged outdoors, with a table set for the meal and assorted casual seating. The same table is also ideal for family meals and special projects.
An extended roof and/or articulated rear elevation helps create a semi-private alcove for outdoor leisure. Comfortable seating makes this a wonderful spot for reading, thinning the emails, vacation planning…lots of things that are for you to choose.
Amenities—Today's window designs, sliders and disappearing Nano doors make easy connectivity easier, offering free flow throughout the spaces to expand everyone's enjoyment. Flooring that carries outside from the adjacent interior strengthens the feeling of seamless, integrated spaces.
We also help set the stage with price-included outdoor rooms for many WPG new home designs, and they are covered for privacy and shade. Some add an outdoor fireplace, and pre-wiring for lighting, television, music and ceiling fans. When lot size permits, we can offer a spa and/or private pool, designed and finished with the help of our pool and landscaping contractors.
Effortless, indoor/outdoor function brings pleasures and possibilities to other spaces. On the ground floor, shaded, landscaped patios add distinct charm to a dining room, den, home office or guest bedroom. Upstairs, a balcony with seating capacity enriches the master suite, adding a secluded outdoor space for chatting, coffee, or nap.
At front or rear, decks or balconies also improve secondary bedrooms and lofts. Bringing light and interest to the interior, they also deliver territorial views of the environment beyond.
These and other indoor/outdoor concepts are integral to the lifestyle quality we strive to provide in all of our new home neighborhoods. Please visit us soon, and enjoy the experience—inside and out!
Back to Blog