Focal Amenity Highlights Bald Eagle Point In Boise's Treasure Valley
August 09, 2023
Rebecca Hardin | Open Line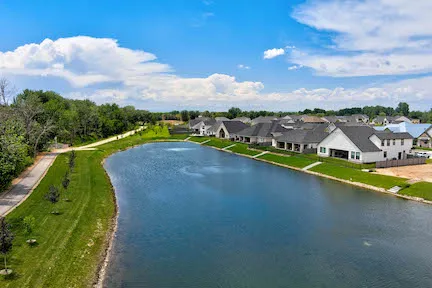 Estate-sized homesites and custom-caliber designs make award-winning Bald Eagle Point a highly desirable choice in Boise's Treasure Valley, and now, this neighborhood also includes The Perch, a residents-only amenity center. Created by builder/developer Woodbridge Pacific Group (WPG), Bald Eagle Point continues to attract an array of new home shoppers seeking something truly special.
"Our buyers appreciate the choices they find here in architectural style, floorplan design and homesites," said WPG Vice President, Managing Director Jim Perry. "We are delighted to see Bald Eagle Point coming into its own as a preferred choice in the Treasure Valley."
Opening celebrations for The Perch drew Bald Eagle Point homeowners, Eagle Chamber of Commerce members and the local community. WPG hosted festivities that included ice cream treats and casual neighborhood tours. Jim Perry took the scissors for the ribbon cutting, assisted by Kenny Pittman, Vice Chairman, Eagle Chamber, and by Jennifer Stutheit, Executive Director, Eagle Chamber.
At the new amenity center, residents and their guests can enjoy a pool, pickleball court, playground and fire pits. This enclosed, private neighborhood oasis includes perimeter parking and is walkable from all Bald Eagle Point homes.
"Bald Eagle Point residents now have a pleasing place to relax and gather, a place that reflects WPG's commitment to creating inviting, high-quality neighborhoods," said Perry. "The Perch further enriches the indoor/outdoor appeal of Bald Eagle Point and its surroundings."
Bald Eagle Point—In the city of Eagle, Bald Eagle Point is adjacent to the Boise River and close to shopping, dining and entertainment. Homesites range from over 9,000 to over 35,000 square feet, with some waterfront sites available. Bald Eagle Point homes are priced from the $800,000s, and offer elevation styles that include Modern Farmhouse, French Country, Mountain Lodge, Craftsman and Modern.
Bald Eagle Point features 10 floorplan designs that provide approximately 2,444 to 4,690 square feet of living space, with 3 to 6 bedrooms and 2.5 to 6.5 baths. Covered outdoor living spaces highlight every home, and each plan offers a 3-bay garage plus optional RV garage. Per plan features include office, game room, flex room and wine storage.
Prestigious honors for Bald Eagle Point include kudos bestowed in Southwestern Idaho's "People's Choice" program, where Plan 5 was the overwhelming choice in all 3 categories of the Fall Parade of Homes: Favorite Exterior, Favorite Kitchen and Favorite Master Suite. The Parade is sponsored by the Building Contractors Association of Southwestern Idaho, a residential trade association affiliated with the National Association of Home Builders/NAHB.
Bald Eagle Point also earned honors in The Nationals, an awards competition sponsored by the National Sales and Marketing Council. Silver Awards included Plan Four's model home interior and Plan One's architectural design. "Bald Eagle Point's contextual, distinctive designs are fresh and highly livable, and our judges noted a skillful blend of style and functionality," said Lisa Parrish, Judging Chair of The Nationals.
Haven—WPG also offers new home choices at Haven in Star. Haven is adjacent to North Can Ada Road, with convenient access to shopping, dining and entertainment. This limited edition has just 20 homesites, which will frame Farmhouse, Modern, Craftsman, French Country, and Mountain Lodge elevation styles. Homesites are from 17,500 square feet, and 8 thoughtful floorplan designs provide 3 to 6 bedrooms and 2.5 to 6.5 baths. All designs provide multi-bay and RV garages and feature seamless connectivity to covered outdoor living space. Pricing is from the $900,000s.
Learn More—Interested shoppers can review Haven and Bald Eagle Point selections at the Bald Eagle Point Sales Gallery, at 144 South Gresham Way in Eagle. Hours are Thursdays through Tuesdays from 11 a.m. to 5 p.m., and Wednesdays, 11 a.m. to 1 p.m. For more information, call 208-960-2264 to speak with Alexa Brenner or Vanessa Perry. Also see www.woodbridgeidaho.com.
Established in 2011, WPG is a privately held, selective developer/homebuilder with an excellent track record in all markets. Initiating acquisitions in Idaho in 2020, it named Jim Perry Vice President of Operations. Under his direction, WPG is developing Bald Eagle Point and Haven, and plans new offerings in the coming year.
The Idaho division reflects WPG's commitment to distinctive designs in premier locations. The company's timely pursuit of strategic land positions has helped generate unique niche properties, with many best sellers earning renown in prestigious design and planning awards.
Back to Press Releases