Woodbridge Pacific Group Matches New Home Excellence With Exceptional Purchase And Lifestyle Advantages
August 31, 2023
Rebecca Hardin | Open Line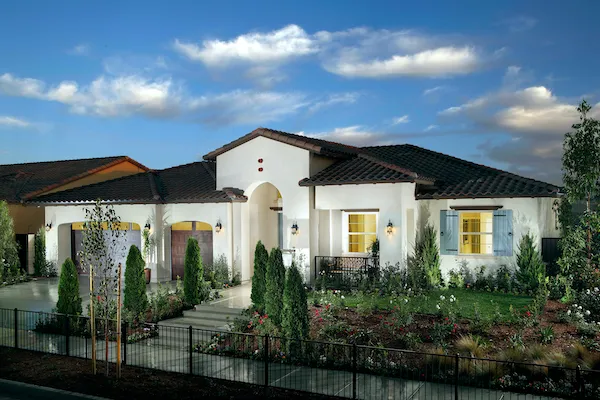 New-home shoppers seeking top value in home and neighborhood find this and more with Woodbridge Pacific Group. "Our goal is to pair a high-quality home with a high-quality neighborhood," said WPG President Todd Cunningham. "Our preferred lender can supply expert help with the financing, interest rate reductions and incentives we offer at selected WPG neighborhoods.
"WPG homes provide fresh designs, layouts and finishes," he added. "Buyers also appreciate the construction and appliance warranties that promote low-maintenance living, and our personalized service."
Modern Luxury—To craft its limited-edition neighborhoods, WPG pairs research findings with the operational excellence of its experienced team. Collections range from the $500,000s to the $1Millions, and are sized from 1,871 to 5,126 square feet of living space. Versatile layouts and pleasing connectivity to outdoor living spaces highlight all designs. Per neighborhood, garages provide 2-car, 3-car and 4-car spaces, and some feature dedicated RV parking.
Stylish exteriors provide distinctive flair, enriched by brick, stone or wood. Each neighborhood offers authentic, enduring value, individualized to its place.
Buyer-Centric Designs—Single professional Rahsaan Tilford chose Nova at University Park in Palm Desert. "I wanted to own a new home, and I wanted to get a place I could really love, as opposed to settling for just OK, "said Rahsaan. "I liked this layout, and the size of my yard is just right—large enough to enjoy but not too big to manage. I finally found a place that I truly love."
Todd and Maria picked Nova before model homes were built, scouting their prospective builder by touring other WPG neighborhoods in the California desert. "We liked what we saw," said Maria. "We appreciated the designs and the quality they deliver, and both of these factors kept University Park at the top of our list.
"We found just what we were looking for when we reviewed these designs," she said. "Our floorplan is great, the architecture is modern and fresh, the location is exceptional—the vibe is super positive!"
Personalizing Choices—Most new WPG homes offer lifestyle layout options, such as loft, den or home office in lieu of a bedroom; expanded kitchens with home centers and prep spaces; and laundry rooms with play and hobby spaces.
Working with WPG's professional design team, buyers can personalize their new homes in additional ways, choosing from an inviting array of features and finishes. These may include exterior materials, door styles, kitchen packages, bathroom finishes and lighting.
Premium Locations—convenient access to business and medical centers and recreational choices are hallmarks of WPG neighborhoods. Signature destinations also include premium shopping districts, sports arenas and entertainment venues.
Strong schools are a big plus for family households. Maturing buyers also check district rankings because they know that acclaimed schools boost property values.
Close To Home Pleasures—In many WPG neighborhoods, leisure fun is close at hand, thanks to nearby parks with play areas, tot lots, dog parks, basketball courts and expansive lawns. Some collections include private amenity centers.
At The Perch at Bald Eagle Point in Boise's Treasure Valley, residents and guests can enjoy a pool, pickleball court, playground and fire pits. This private oasis is walkable from all Bald Eagle Point homes. "Our residents now have a pleasing place to relax and gather, a place that reflects WPG's commitment to inviting, high-quality neighborhoods," said WPG Vice President, Managing Director Jim Perry.
In WPG's walkable, charming village of Belcourt in Bakersfield, homeowners share the core destination of the Belcourt Center Club, which features a resort style pool and spa, a fitness center, multi-purpose and community rooms, billiards room and catering kitchen. "This is the heart of Belcourt, for special events, workouts and simply relaxing with friends and neighbors," said Charlene Oliver, WPG Senior Sales Counselor at Mahogany.
Vibrant Community—Maria and Todd enjoy the switch from California's Bay Area to their Palm Desert home. "We have a very walkable environment, a major selling point," said Maria. "This location will only get better as it matures and adds more retail, dining, and other leisure choices. It's terrific now, and after I retire, it will be a super place to stay engaged."
"With family in the desert and the Silicon Valley, we expect to make full use of our guest spaces—and our backyard pool," added Todd. "My 87-year-old father lives just down the street—a plus for us all."
Award Winning—WPG has earned scores of prestigious honors for design and planning in regional and national competitions. A recent example is Bald Eagle Point, which took Silver Awards for interior design and architecture in The Nationals, sponsored by the National Sales and Marketing Council. "Bald Eagle Point's contextual, distinctive designs are fresh and highly livable, and our judges noted a skillful blend of style and functionality," said Lisa Parrish, Judging Chair.
Customer Focus— WPG buyers can also explore the reduced interest rates and special incentives available at selected neighborhoods, with expert help from preferred lender Jeff Weirsma of US Bank. Jeff assists all buyers who secure their loan through US Bank.
"Jeff's ability with navigating today's purchase process is exceptional, and his expertise is especially helpful for shoppers tapping incentives and interest rate reductions," said Chad Ross, WPG Community Sales Manager. "Jeff welcomes calls at 949-515-1205 or 714-403-0329, and you can email Jeff.wiersma@USBank.com."
Rahsaan agrees. "Jeff Wiersma and his team were terrific, every step of the way. Everything about choosing my home, buying it and moving in was smooth, start to finish."
Visiting their build site during construction, Bald Eagle Point buyers Barbara and Bill McCain had high praise for WPG. "The site is super clean, which tells you there is pride in what they do," said Barbara. "Then we started meeting the people who work here, and we are truly impressed with WPG. The communication with our agent was steady and smooth, which was huge for me—with this company, someone actually calls back!"
Back to Press Releases