Woodbridge Pacific Group's University Park Hits Palm Desert Sweet Spot
November 09, 2022
Rebecca Hardin | Open Line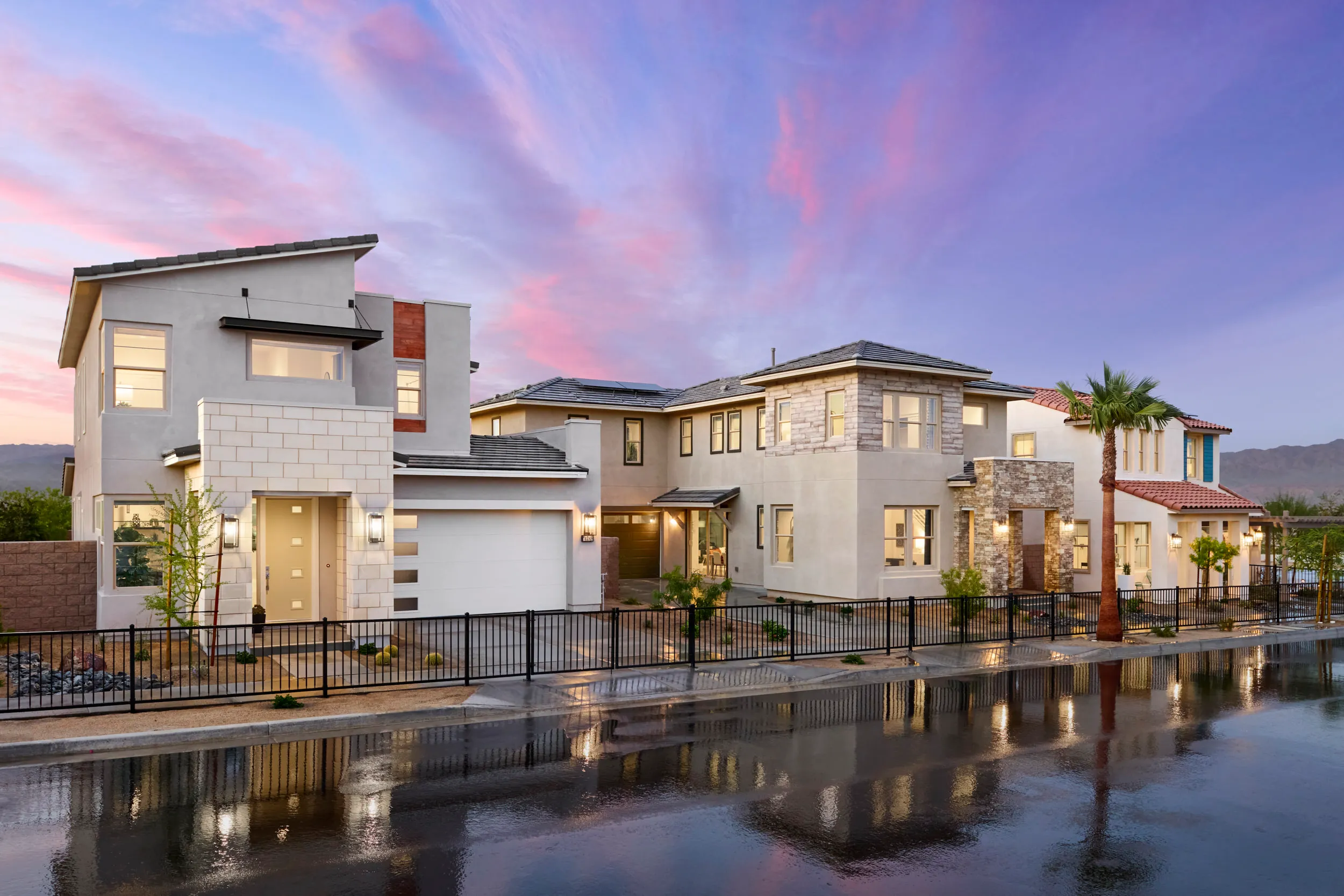 First-time and move-up buyers, growing families and empty nesters praise the high value they discovered at University Park in Palm Desert, in the Nova, Verve and Esprit neighborhoods. Many explored other desert areas, with University Park winning out.
Superior Location— University Park is near the 10 Freeway just off the Cook Street exit. The primary intersection for WPG's new neighborhoods is Gerald Ford Drive and Portola Road.
Convenience is a leading factor on a value list that includes design, pricing and lifestyle advantages. Rahsaan Tilford said his new Nova home is convenient to his work center and other destinations. "You are close to a lot of amenities, lots of retail, places to eat, close to hiking trails and Joshua Tree—it's all easy from here," he said.
Location also scored high for Nova buyers Maria Carlucci and Todd Rous. "We have a very walkable environment, a major selling point," said Maria. "This location will only get better as it matures and adds more retail, dining, and other leisure choices. It's terrific now, and after I retire, it will be a super place to stay engaged."
Strong schools are particularly key for family buyers. The Desert Sands Unified School District and Palm Springs Unified serve University Park with quality schools for K-12.
Established nearby parks add to a desirable lifestyle. They include one dog park and one with covered play area, basketball court and lawn.
A wealth of additional choices for recreation and leisure are also taking shape at The Grove, the master plan's amenity center. These include a resort pool, a lap pool and a kiddie pool. A shaded playground, pickleball court, a stage area, lawn areas for events and games, a firepit and a BBQ area are also part of the enticing array of leisure time venues.
Speaking of Design—University Park features three stylish new home collections, with pricing that begins in the mid $500,000s. They include:
Nova—5 plans provide 1,880 to 2,304 square feet of living space, with 3 to 4 bedrooms and 2.5 baths. All plans are two-story, and all provide great rooms, covered outdoor living space and two-car garages. Per plan highlights include den, lounge, project room and optional loft.
Todd and Maria chose a Nova Plan Two, well before the model homes were built. "We found just what we were looking for when we reviewed these designs," said Maria. "Our floorplan is great, the architecture is modern and fresh, the location is exceptional—the vibe is super positive!"
Verve—4 two-story plans offer 1,871 to 2,490 square feet of living space, with 3 to 5 bedrooms and 2.5 to 4.5 baths. Great rooms highlight the designs, which also offer such per plan distinctions as loft, dual primary suites and a cabana/game room. All homes include 2-car garages.
Esprit—this 4-plan collection features one single-story design. Plan sizes range from 1,992 to 2,925 square feet, with 3 to 5 bedrooms and 2 to 3.5 baths. All homes provide great rooms, covered outdoor living space and 2-car garages. Among per plan highlights: loft, optional den, lounge and outdoor lounge.
Modern Spanish, Boutique and Contemporary styling highlights each collection, enhancing streetscape variety and exterior appeal. Optional pools are available for most University Park homes.
"Our buyers have been quick to secure their new home here, and they are glad they did," said Chad Ross, WPG Community Sales Manager at University Park. University Park's 10 model homes are open 10 a.m. to 5 p.m. daily. The address is 35779 Lasuen Street in Palm Desert, 92211. Call 760-565-6556 or visit wpguniversitypark.com for more information.
Your Purchase—"Pre-qualifying helps you choose your top picks and take quick action when the time is right," said Ross. "You also become part of our interest list, making you among the first to know what's available and what's coming up."
Ross added that WPG preferred lender Jeff Weirsma of US Bank can provide thorough and expert assistance. "Jeff's help with navigating today's purchase process is exceptional," he said. "Feel free to call Jeff at 949-515-1205 or 714-403-0329, or email Jeff.wiersma@USBank.com."
Rahsaan Tilford agrees. "Jeff Wiersma and his team were terrific, every step of the way. Everything about choosing my home, buying it and moving in was smooth, start to finish."
A Real Community—"The immediate neighborhood is really beautiful, and most of my close neighbors have moved in," said Rahsaan. "We are a mix of locals and people from LA, and from far away, like Chicago. We've started to get to know each other and have exchanged phone numbers. It's nice to walk around and say hey to your neighbors!"
"With family in the desert and the Silicon Valley, we expect to make full use of our guest spaces—and our backyard pool," said Todd. "My 87-year-old father lives just down the street—a plus for us all."
WPG Quality—To learn more about University Park's builder, Maria and Todd visited several Woodbridge Pacific Group neighborhoods in the desert area. "We liked what we saw," said Maria. "We appreciated the designs and the quality they deliver, and both of these factors kept University Park at the top of our list."
As Rahsaan summed it up, "I wanted to own a new home, and I wanted to get a place I could really love, as opposed to settling for just OK."
Back to Press Releases